397, MMR Building, New Indian Bank, Annanagar, Madurai, Tamilnadu, India - 625020.
Ceritified ( ISO 9005-2010 )
commercial refrigeration
/ Medical Refrigeration Products
---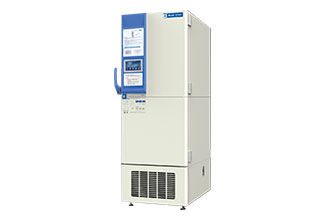 MEDICAL REFRIGERATION PRODUCTS
RELIABLE STORAGE. EXCEPTIONAL CONTROL.
Blue Star, India's leading Air Conditioning and Refrigeration Company now brings you freezers and refrigerators in various series, with low and ultra low temperature settings, for scientific and medical purposes.
4°C BLOOD BANK REFRIGERATORS
A blood bank refrigerator is a specialised refrigerating equipment for blood storage. It's also used for cold storage of pharmaceuticals, biological products, vaccines and other uses; typical for hospitals, epidemic prevention stations, blood banks and various medical industries.
SALIENT FEATURES
Six advanced temperature sensors
Microprocessor controller for precision temperature
Security control alarm systems for various malfunctions
Three different alarm methods: buzzer, light flash and remote alarm
Multi-protective function: time delayed power-on
Temperature recorders and printers
Safety door lock
Inner and outer double door design for effective insulation
LED lighting inside for content visibility
Multi-layer movable shelves
Universal castors with locking facility
2°C TO 10°C MEDICAL REFRIGERATORS (STAINLESS STEEL FINISH)
These are specialised refrigerating units which are rugged and come with a unique auto defrost system.
SALIENT FEATURES
Microprocessor controller for precision temperature
Combination of two sensors and auto defrost mechanism
Audio and visual alarm systems
Safety door lock
Stainless steel exterior and interior
LED lighting and glass door for clear content visibility
Double glass door with heater to prevent ice leaks
Multi-layer movable shelves with blood storage basket
Data logging with printer: chart recorder is optional
Eco-friendly refrigerant with R134a (CFC-free)
Medical Freezers
The Blue Star range of ultra-low upright freezers comes with highly efficient compressors and eco-friendly refrigerants. These medical freezers offer a wide variety of research and storage applications such as low temperature scientific experiments, preservation of plasma, biomaterials, vaccines and biomedical properties of military products. It is suitable for research institutes, electronic industries, chemical engineering industries, hospitals, university laboratories, military industries, sanitation and anti-epidemic stations.
-25°C UPRIGHT MEDICAL FREEZER
SALIENT FEATURES
Microprocessor controller for precision temperature
Audio and visual alarm systems
ABS plastic for inner cabinet and painted steel for external body
Safety door lock
Heavy duty castors
Drawers for easy storage
Chart Recorder (Optional)
Eco-friendly refrigerant with R507 (CFC-free)
-40°C UPRIGHT MEDICAL FREEZER
Microprocessor controller for precision temperature
Audio and visual alarm systems with password protection configuration page
ABS plastic for inner cabinet and painted steel for external body
Safety door lock
Heavy duty castors
Chart Recorder (Optional)
Drawers for easy storage
Eco-friendly refrigerant with R507 (CFC-free)
-86°C Upright Medical Freezer
Microprocessor controller for precision temperature
Audio and visual alarm systems
Stainless steel interior and pre-painted steel exterior body
Lockable door with full height handle and vacuum release port
Adjustable stainless steel shelves with inner door, double silicon gasket seal
Heavy duty castors
Optional: chart recorder, CO2 backup system, storage racks/boxes, remote alarm systems
Two-times foaming technology, 155mm foaming insulation with VIP+
Patented technology of CFC-free mixture refrigerant (R134a, R404a, R23, R410a, N2 etc.)
Keyboard lock & password protected configuration page; delayed start & safe stop interval between restart & being terminated
Has a temperature printer to record 7 days of data with 72 hours battery backup for printer and controller display